Join us for our specialty open boat gulf stream fishing trip. We run the best gulf stream trip on the beach.  Once you go with us the head boats cant compare. We limit this trip to 15 max and include premium bait(normally sells for $25 per box). This is the big fishing trip when you want to put fish in the box. You can catch it all on these trips, grouper, black sea bass, vermilion snapper, grey snapper, triggers, rudders and kings on the drift lines. The "SUNDANCER" is a 40 foot fiberglass boat, fully equipped with state-of-the-art fish-finding electronics.  The "SAFARI IV" is a 45 foot customized fishing/diving vessel. The "BLUE RUNNER" is a 35 foot fully equipped vessel. The "SOUTHERN TIDE" is a 45 foot fully equipped fishing vessel. If you are booking a vacation or living in Myrtle Beach and want to embark on an adventurous fishing trip, please contact us today. For many years we have been providing our guests with memorable Myrtle Beach fishing charters.   With our experienced captains and professional crew, the Little River Fleet offers some of the best gulf stream fishing trips available on the Grand Strand!
Capacity – up to 15 people on Sundancer.
Capacity – up to 6 people on Blue Runner
Capacity – up to 30 people on Southern Tide.
Capacity – up to 20 people on Safari IV.
Gulf Stream Fishing (11 hours)

7:00 am – 6:00 pm

$175.00 per person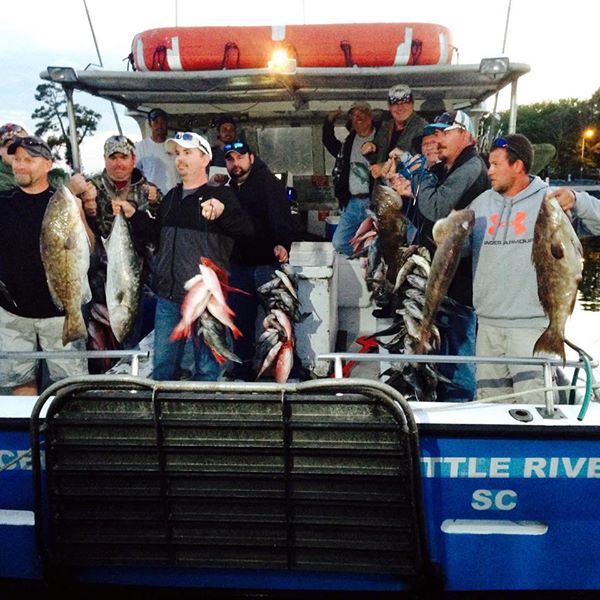 Please note:
Child prices are for 12 years old and under.
Safety regulations do not permit personal coolers on board the Pride of the Carolinas.  Food, soft drinks, beer and snacks are available at the snack bar on the boat.
Trips & Scheduling may change without notice.
On private charters you may bring your own cooler, food, and drinks.  Snacks and beverages are also available on the boat.
Pride of the Carolinas is also available for private charter – please call for pricing.