Myrtle Beach's #1 Deep Sea Fishing Charter For Over 30 Years!
Little River Fishing Fleet has been the Myrtle Beach area leader in Deep Sea Fishing Charters and Open Boat Fishing Trips since 1985. Our dock puts us closer to the ocean than area competitors, giving you more time to fish. And our Captains and crew strive to make your experience one to share with friends and relatives. We'll provide everything you need to have a fun day on the water, you provide the smiles and sense of adventure. If you're ready to head out for a fun day of fishing in Myrtle Beach, call us at 843-361-3323.
Classic Head Boat Fishing
1/2 Day Fishing Trips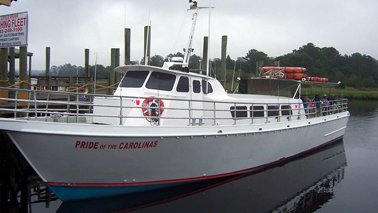 From $40
/pp
Most Popular
Specialty Open Boats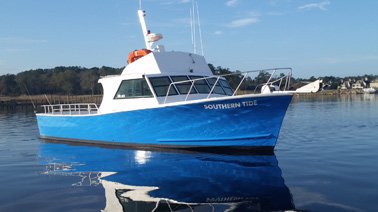 From $60
/pp
Most Flexible
Private Charters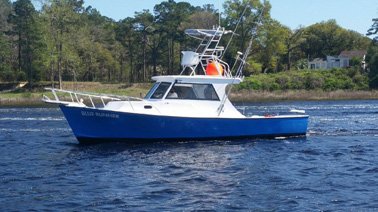 From $450
Our fishing schedule is below, click any date to see options.
Call us for private or specialty trips at 843-361-3323
VISIT OUR NORTH MYRTLE BEACH RETAIL CENTER!
Our 3,500 Square Foot Retail Facility offers you the opportunity to ask questions about charters, recent catches, or sea conditions. Grab a local fishing shirt, hold and feel a new rod and reel, or just grab an extra stringer, sunglasses or a new Calcutta Cooler. We have a large selection of items, and if you book a trip a discount on product is an extra bonus.
We're located at 1901 Hwy 17 South, in North Myrtle Beach.
---
The Pride Of The Carolinas

90 Foot Aluminum Fishing Vessel
Traditional Head Boat
Air Conditioned Cabin
Onboard Bathrooms
Back Deck With Seating
Capacity of 70
---
Southern Tide

45 Foot Fishing Vessel
Customized For Specialty Fishing Charters
Large Enclosed Cabin
Marine Head
Back Deck With Seating
Capacity of 30
---
Safari IV

45 Foot Custom Fishing Vessel
16 foot beam
Enclosed Cabin
Marine Head
Customized for Specialty and Charter Trips
Capacity of 25

---
Sundancer

40 Foot Fiberglass Vessel
15 foot Beam
Customized For Private Charters
Semi-Enclosed Cabin Area
Marine Head
Capacity of 16 Fishermen & 2 Riders

---
The Blue Runner
35 Foot Custom Fishing Vessel
13 foot beam
Semi-Enclosed Cabin
Marine Head
Back Deck With Seating
Capacity of 6

---
Inshore Fishing
We've partnered with Captain Smiley Fishing Charters to offer a light fishing guide option.
Inshore Sounds, Inlets, & Tidal Creeks
Full & Half Day Charters
All Tackle, Bait and Guide Included
Frequently Asked Questions
Do I need a fishing license?
You are covered under our fishing license. We'll also provide the rod, reel, tackle, and bait. You provide the smiles and sense of adventure.
What am I going to catch?
On the shorter trips, you'll catch a lot of fish, but due to federal regulations, you'll have to throw a lot of them back. The further out the trip goes, the more fish you are able to catch, keep, and bring back to the dock with you. Our experienced Captains will always do their best to put you on the fish. Call us in the office to find out what's currently being caught.
Where does the boat depart?
We have two different departure points. Cricket Cove Marina in Little River, and the Little River waterfront. Both are close to the inlet and allow for maximum fishing time. We'll give you exact directions when you book your trip, or you can call us for more specifics at 843-361-3323
Is this family friendly?
Yes! We love to take kids fishing, however we don't recommend that children 4 and under venture out onto the high seas for personal safety reasons. With a mate to help bait hooks and remove fish, this is the perfect chance to take those above 4 out for a day on the water.
Our Location
Contact Us
Let's talk about your next Deep Sea Fishing Adventure.
We have decades of experience putting people on the fish. And, we offer several options to make that happen. From the budget friendly, classic head boat trip, the specialty bottom fishing, trolling, or shark trip, to the fully customized private charter. We have you covered. And, one of the things that we do well is putting like minded people together to reduce the cost, and still provide that private charter feel. Send us a note below about what you are looking for and we'll get back to you quickly.